Blue Vane Scoreboards
Australia's longest established and highly regarded source of electronic scoreboards, timers and variable message signs.
A REPUTATION BUILT ON QUALITY SERVICE AND EXCEPTIONAL RELIABILITY
Since they first opened their doors back in 1972, Blue Vane has built a well-earned reputation for quality, reliability and innovation that has seen them design, manufacture and supply literally thousands of products to every state and territory in Australia, as well as many overseas clients as well.
Over the past 40-plus years Blue Vane have developed a wide range of products that have been specifically designed and built to stand the test of time in Australia's harsh climate. Rather than simply re-sell products that have been built to lesser standards overseas, all of Blue Vane's products are designed and built in Melbourne, with an emphasis on reliability, ease of installation and ease of use.
QUALITY DESIGN AND CONSTRUCTION FROM CONCEPT TO DELIVERY AND BEYOND
Not only are all of Blue Vane's displays and driver boards assembled and tested in their factory, giving jobs to Australian workers, but those same Australians are the people you can speak to on the phone should you have any questions or require prompt after-sales service.
Importantly, every Blue Vane product has been designed with plug-in components which can be readily exchanged by non-technical personnel. This means that no matter where your sport is being played, from the southern tip of Tassie to the Gulf of Carpentaria, (or even the highlands of Papua New Guinea), you can be confident of installing your Blue Vane scoreboard and keeping it operating at peak performance using local resources such as an electrician or even a handyman.
These are just some of the reasons that Blue Vane are so highly recommended by so many sporting bodies around the country. In fact, many of Blue Vane's scoreboards are still in service after more than three decades…some without any servicing at all since the last century!
PROUDLY MADE IN AUSTRALIA SINCE 1972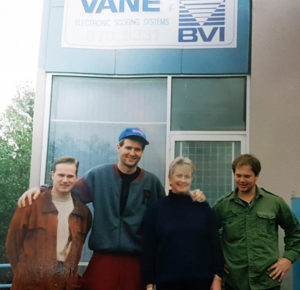 Quality you can count on
Our scoreboards are designed and built in our Ringwood factory, and we stand by our quality and reliability with a genuine warranty covering all component and manufacturing faults.
Designed and built to be easily installed without the need for technical resources, in most cases your local maintenance staff can install our boards.
Blue Vane also offer installation within the Melbourne area as well as Australia wide installation by our competent technicians.
Reliable and easy servicing.   Our scoreboards not only have  proven longevity,. but with our signature control panels also built right here in Australia, the maintenance on our products is minimal.
All our scoreboard feature easy opening doors and plug-in circuitry which can easily be repaired or replaced eliminating the need for expensive on-going service contracts.
Blue Vane are Australia's largest scoreboard manufacturer and delivery Australia wide as well as internationally.
Our boards are built to withstand Australia's often harsh conditions and include high grade rust resistant casings.